Social Responsibility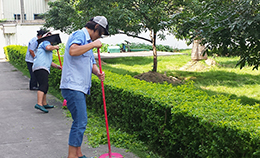 Uni-tech, as a global supplier of industrial products, is mindful of the effects of its production activities on environment. To alleviate the impact on environment, we pledge not to use prohibited substances or raw materials in the process.
Instead, we apply technology to efficient production to save energy and resources. We enforce recycling schemes to reduce pollution. We promise to observe environmental regulations on manufacturing activities, and meet customer demands on green production.
Uni-tech is committed to current national and international standards and ultimately will strive to exceed them for the sake of public good.
Environmental Policy
Conforming to environmental regulations and producing green products
Continuously refining workmanship and technology to realize eco-friendly production
Saving energy, reducing and preventing waste to protect environment
Occupational Health and Safety Policy
| | |
| --- | --- |
| health check | Uni-tech pledges to provide a safe and healthy working environment for its staff and employees. We have set up an industrial health and safety management system accordingly. We strictly observe all the relevant regulations and standards as well as customer demands. We also pledge to appraise the industrial health and safety performance periodically and implement continuous improvement plans. |
Public Welfare Activities
Uni-tech is actively involved in community building through material aids, financial contribution and actions. We also encourage our staff to take part in social welfare activities. Our concern is to improve the community and lower the impact of the production on the neighborhood and the environment.
Past events include:
| | |
| --- | --- |
| | tree-planting |
| | |
| --- | --- |
| | neighborhood cleaning |
| | |
| --- | --- |
| | charity donations |