Technology
Uni-tech boasts integrated manufacturing equipment and customized production modes to meet different production scale and customers' needs. We also coordinate with other factories and suppliers to offer quality products and satisfactory services.

Forging

With over 40 years of experience in the industry, Uni-tech possesses the most advanced technique in hot forging and multi-station cold forging.
Machining

Uni-tech's machining techniques and various equipment make it possible to meet customer tooth design. These techniques include turning, threading, milling, drilling, grinding and stamping.
Assembly

Uni-tech is able to develop assembly line on request. The services include component assembly and adjustment, marking and packaging, and full inspection. Uni-tech also offers sourcing service incurred by assembly. This integrated service that combines research and development, sourcing, supplier management, and logistics service provides best one-stop solutions to our customers.
Production Modes
● Work cell production
● Build-to-order production
● Configure-to-order production

Research and Development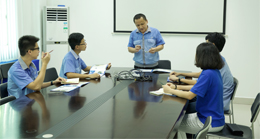 ● Efficient R&D team
● Customized Production Work Flow
● Risks Evaluation

Uni-tech adopts APQP (advanced product quality planning) and project management style to approach customer orders and designs. A professional R&D team will evaluate the risks in manufacturing each product, and design an efficient work flow in accordance to the product's material, dimension and tolerance, functional strength, test requirements, production scale, packaging requirements, etc.